Ultralight Backpacks
Ultralight Backpacks are part of a lightweight backpacking system. It makes no sense to use a lightweight backpack if your going to fill it up with traditional heavy backpacking gear. As one of the "big three" you can save a lot of weight if you choose your backpack wisely.
What to look for
Most lightweight backpacks fall into the 2 to 3 pound range. Ultralight backpacks weigh a pound or so. So what features should you look for?
I prefer a pack with lots of mesh pockets on the outside

. It's great to be have a place for wet gear to dry while I hike. Mesh pockets also come in handy for carrying liquids that you would not want leaking inside your pack. Fuel, Deet, Cooking Oil, Sunscreen, etc. I also keep my tarp in an outside mesh pocket. That way if I have to set-up in the rain I don't have to open up my pack and risk getting the contents wet.

Most Ultralight Packs come with a roll top closure

. This saves the additional weight of a top lid compartment.

Lightweight materials

. Many ultralight backpacks are made from silnylon. This is a lightweight material that's fairly strong for its weight. Avoid heavy weight materials. Carrying a light load doesn't require

a bullet proof

pack.

A pack without an internal frame

. Carrying an ultralight load of gear doesn't require a heavy internal frame to transfer the load to your hips and legs. Most ultralight backpacks are designed to use your sleeping pad as it's frame.
Some Examples
I've owned several ultralight backpacks. My first lightweight backpack was an
LL Bean "Day and a Half" Pack
. It was basically a larger version of their popular book pack. It held approximately 2000 cubic inchs and weighed 24 ounces. I hiked 128 miles of the Appalachian Trail with that pack. My first ultralight backpacking trip!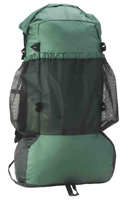 Here is the
GVP Gear G4
Ultralight Backpack. I purchased that pack back in 2000. It's made of silnylon, has plenty of mesh pockets, a roll top closure, and no internal frame. It weighs 16 ounces and has a capacity of 4000+ cubic inches!
The large capacity of this pack allowed me to carry my sleeping bag basically uncompressed. No need for compression stuff sack's with this baby!
As a note of interest, this is the pack "Flyin Brian" Robinson used in 2001 when he completed the "Triple Crown" in one year.
7,371 miles in 300 days
!
The last pack I'd like to mention is my current favorite. It's the
Gossamer Gear Mariposa Plus
. It weights 22 ounces and holds up to 3600 cubic inches. It has a removable Aluminum internal frame (3.4oz) that increases load carrying capacity to 30 pounds. Handy if you need to carry large amounts of food or water. Remove it and you have an 18 oz Ultralight Backpack.