Ultralight Tarp and Accessories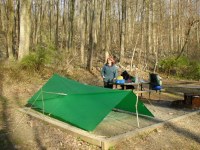 I've owned a single wall department store tent, a bomb proof mountaineering tent, and others that fall somewhere in between. Today I get the most ENJOYMENT from my ULTRALIGHT TARP!.
Ultralight Tarp - 13.3 oz
In 1997 I backpacked the New Hampshire section of the Appalachian Trail carrying a lightweight single wall hoop tent that weighed 62.6oz complete. That lightweight shelter is 2-1/2 times heavier than what I carry today! I now use an 8"x10' Ultralight Tarp
that I purchased from Campmor. This tarp is made of Silnylon, the same stuff that hot air balloons are made of. It's almost half the weight of a normal nylon tarp but still very strong.
Stakes - 3.2 oz
One rainy day I spent time at L.L.Bean weighing stuff in their camping department. I found a big difference in the weight of tent Stakes
. A set of 8 ranged from 3.2oz to nearly a half pound! Be careful, that magic metal titanium is not always the lightest! I carry 8 plastic stakes.
Ground Cloth - 2.6 oz
I use a 2 mil sheet of poly for my ground cloth Various alternatives exist which I will be looking into. Tyvek is light weight as is a Mylar emergency space blanket. I've also heard of people using 1mil plastic! Time will tell...
Triptease - 1.5 oz
To pitch my ultralight tarp I use Kelty Triptease line. It is very strong, doesn't stretch, and is made with reflective yarns for nighttime visibility, and 50' weights but 1oz.
To knot carry an item is the ultimate in weight reduction. I no longer use those guy line sliders to pull tent/tarp ropes tight. I've learned to tie a taught line hitch, and a clove hitch. Both weight absolutely nothing!!
Stuff Sack - 0.5 oz
I carry my Ultralight Tarp in a mesh stuff sack. Once I weighed all my gear it was easy to choose the lightest stuff sack I owned. I could go out and buy an ultralight Silnylon Stuff Sack
and save even more weight!