Ultralight Sleeping Bag and Gear
My Ultralight Sleeping Bag and related items account for the single heaviest group of gear that I carry, 33.7 oz. Can you imagine, that's the heaviest group of gear I now carry! My shelter weighs less, my backpack weighs less, heck even the "boots" I hike in weigh less! There was a time I never would have believed it possible.
Here is what I carry:
Western Mountaineering Ultralight Sleeping Bag - 26.9 oz
The first sleeping bag I used for Ultralight Backpacking was purchased years ago from L.L.Bean. It was down filled, rated to 40 degrees and weighed 38.9 oz. It served me well.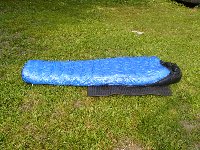 I planned on replacing this bag with hopes of reducing weight and increasing warmth. Two ultralight sleeping bags I considered where the Ultralite, and Iroquois, from Western Mountaineering.
The UltraLite weighs 27 oz
and was rated to 25 degrees.
The Iroquois weighs 24 oz and was rated to 38 degrees.
I purchased the UltraLite. I now have full 3 season warmth in an ultralight sleeping bag weighing less than 2 lbs! I am so impressed with Western Mountaineering. They conservatively rate a sleeping bag for warmth not just "survival", and their advertised weight was accurate!
Shop for Ultralight Sleeping Bags at Eastern Mountain Sports
Some other quality ultralight sleeping bags to consider would be;

Sleeping Pad - 6.2 oz
My sleeping pad is a full length Ridge Rest that I cut in half. At 36" long it supports and insulates my shoulders and hips from the cold ground while offering surprising comfort.
Under my legs and feet I sometimes place clothing and / or my mostly empty pack for additional comfort and insulation. I sleep more comfortably on the soft forest floor than I do on the hard lean-to floors of the Appalachian Trail.
An even lighter alternative
would be the
Therm-a-Rest NeoAir Matress!
At 47" long it only weigts an amazing 9oz and packs down to the size of a one litre water bottle!!
Stuff Sack - 0.6 oz
I don't put my ultralight sleeping bag in a seperate stuff sack. What I use in my pack to keep things dry is a Trash Compactor Bag. It's large enough hold my sleeping bag, clothes bag, and most anything else I might need to keep dry. I twist the top of it closed and then tuck the twisted end down along the inside of my pack. Guaranteed to keep my gear dry and a lot tougher than a regular trash bag!